En 2005 Banksy realizó graffitis en Belén y ahora abre hotel para contar sobre sus paredes la historia entre Israel y Palestina
"El hotel con la peor vista del mundo", así describen los medios internacionales el nuevo proyecto de Banksy: The Walled Off Hotel, que está situado frente al muro que divide a Israel de Palestina. Intervenciones en las paredes, esculturas, pinturas de artistas locales que también participaron en este proyecto; hacen de este hotel un lugar en el que el arte se convierte en un lenguaje universal para contar una historia de confusiones y conflictos desde hace un siglo.
"Los muros son una cosa de moda ahora, pero ya lo eran mucho antes que Trump los hiciera famosos", dijo Banksy en un comunicado. The Walled Off Hotel cuenta con nueve habitaciones ubicado en la ciudad de Belén, el territorio ocupado por tropas israelíes, al que durante el día solamente recibe 25 minutos al sol y se prohíbe ir a la azotea, al menos que primero sea aprobado el permiso por militares israelíes.
Este nuevo proyecto de Banksy cuenta con un museo, galería y un bar en el que huéspedes o no, pueden visitar obras de artistas locales. Romper y devolver lo beneficios a los proyectos locales, es la respuesta adelantada del artista británico a la pegunta que quizá todo mundo lo piensa: ¿se está aprovechando de estos momentos políticos?
Parece que Banksy tenía todo muy bien calculado, siempre con un estilo cargado de simbolismos en sus obras, el 2017 marca 100 años desde que los británicos tomaron el control de Palestina, dando inicio a un siglo de enfrentamientos.
¿Legal o ético pintar el muro?
Aunque el muro que divide a Israel de Palestina cuenta con algunas pintas, no es legal hacerlo, sin embargo, la gente lo ha tomado como lienzo para recordar o retratar su existencia y la situación actual en la que viven. Se puede pintar, evitando cualquier elemento trivial, así lo dicen sus leyes. "Además, al lado hay un Wall*Mart, el cual puede suministrar latas de graffiti", comenta Banksy respecto a lo ético y lo ilegal sobre este muro.
Se pretende que The Walled Off Hotel esté abierto durante todo el año del centenario.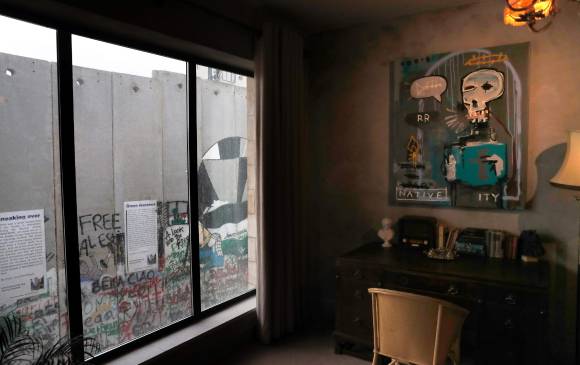 Con información The Walled Off Hotel, Hipertextual y Sputnik